Tropical Boho Wedding With Neutral Color Palette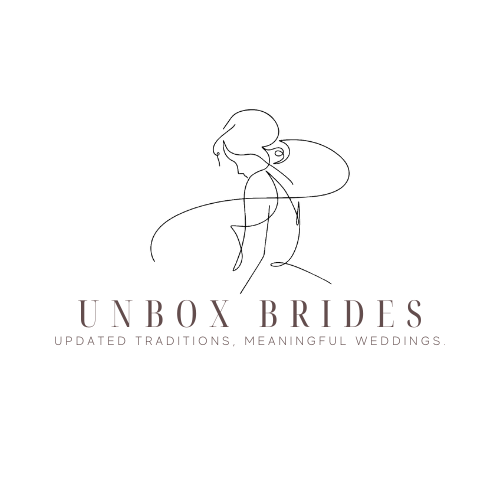 Unbox Real Bride Alex Thielen married her husband Alex Conrad at their Outdoor Tropical Boho inspired Wedding. While getting ready she wore an I Do Wedding Day Robe made from her mother's wedding dress.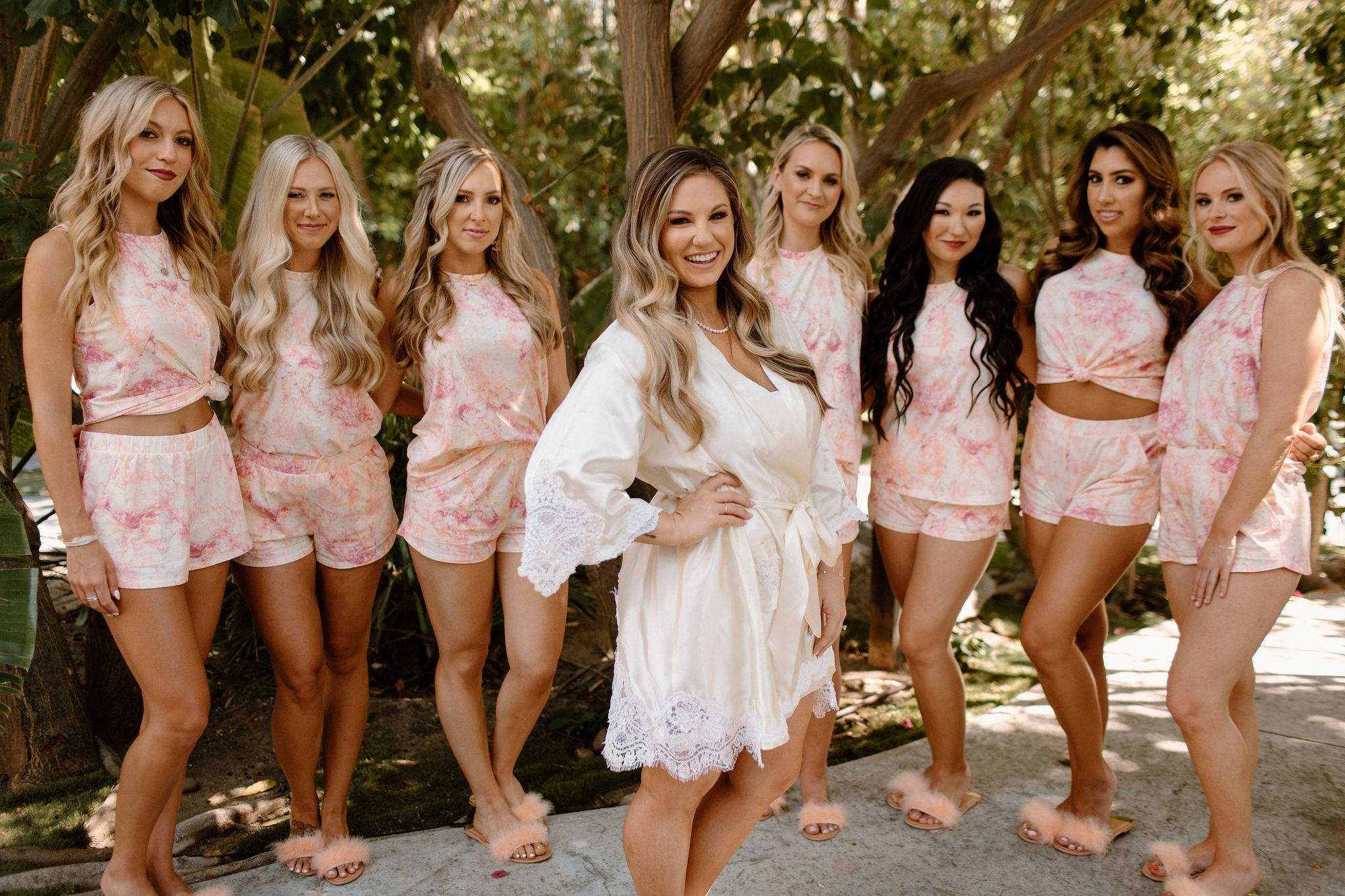 Mom's Wedding Dress Created into Something New

July 2021 -- Alex Thielen and her husband Alex Conrad were married and held their reception at Botanica in Oceanside California. The couple's theme and inspiration for their wedding day was tropical boho featuring neutral tones with a pop of rust orange.

The beautiful, lush Botanica in California provided the perfect backdrop for this happy day with plenty of flowers and greenery. Alex dressed her bridesmaids in a mix of champagne, gold, and rust orange while the groomsmen wore cream linen suits. The couple chose this color palette to compliment their venue.

In the morning while getting ready for the big day, Alex wore an I Do Wedding Day Robe made from the train of her mothers wedding dress. The robe was created using the satin from her mother's dress, the original lace was lovingly added to the robe's sleeves, pockets, and hemline.

The robe was a gift to Alex by her mother, Sammi, which Alex described as being the best gift her mom could have given her and "so personal and meaningful." Sammi also worked with Unbox the Dress to create Swing Shorts and Getting Ready Satin Shorts for herself and Alex to wear while prepping for the big day, as well as two gentlemen's pocket squares for Alex's (bride) brothers.

Bride Alex said, "It's no question trends change over the years when it comes to weddings and dresses, so to be able to still wear a piece of my Mom's after 33 years of her own marriage meant the world to me."

Photos: Mary Claire Roman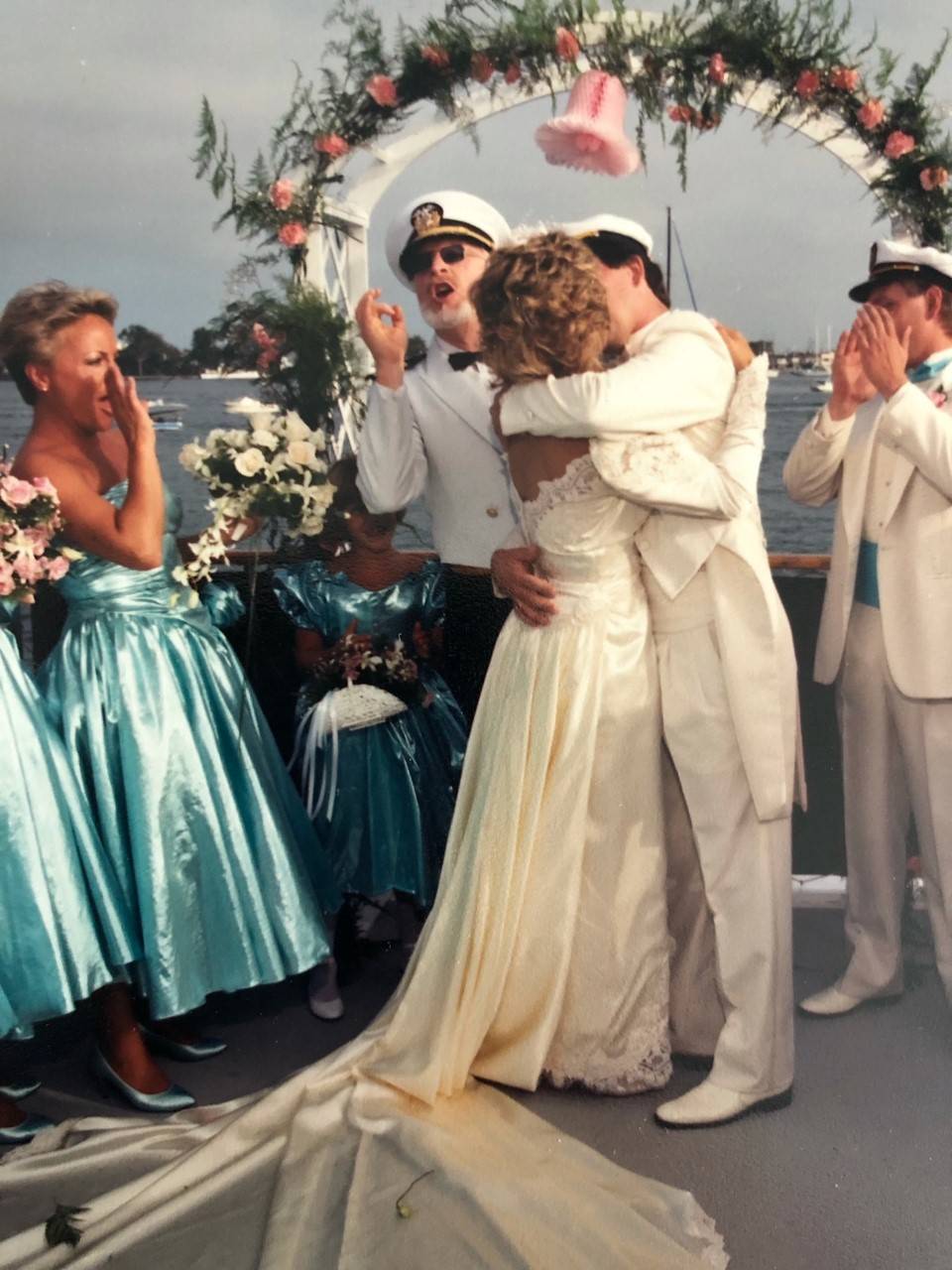 Alex's mother Sammi on her wedding day.